How to make your reservations by PagoCash
Follow all the procedures at our booking page at least 48 hours before your trip and select as payment method:  
When the reservation is done you will be taken to a confirmation page where you will be provided with a


Booking code

 

and a

PagoCash code

(You will also receive this information in your email)

:                          
With the

PagoCash code 

go to your closest Punto Pago Machine within the next 24hrs to proceed with payment or the reservation will be cancelled.
LOCATIONS WHERE YOU CAN FIND AND USE PUNTOPAGO MACHINES
Hotels — 90% of all hotels in Panama City
Hotel Riu, Hotel Sheraton, Trump Ocean Tower, Hotel Riande, Hotel Marriott, Hotel Granada, Hotel Manrey, Hotel Radisson, Hotel Clayton Inn.
Business Centers
Century Tower, Torres de las Americas, Banesco, Credicorp Plaza, Plaza Regency.
Supermarkets
Super Xtra, Super Kosher, Casa de la Carne, Deli K Market, One Stop, Valle de Oro.
Malls and Shopping Centers
Metro Mall, Los Pueblos, El Dorado, Multicentro, Bay Mall, Plaza Paitilla, Plaza New York, Albrook.
Pharmacies
Farmaxpres, San Gerardo, Los Libertadores, Risol, Economica, Farmacia 50, Olimpia.
Universities
USMA, Universidad de Panamá, Colegio Javier
Hospitals
Santo Tomas, Centro Especializado Paitilla, Hospital Nacional, Hospital Nicolas A. Solano
Restaurants
Beirut, Domino's Pizza, Popeyes, Rico Pollo, Cafe Perdu, Cafe Sephia, Cavamar
Tourist Areas
Flameco Market Place, Fuerte Amador Resort, Balboa Yacht Club Amador, Zona Libre de Colon
City Areas
Gasolineras, Lavanderías, Internet Cafés, Fondas, Lava Autos, Iglesias
Outside Panama City
Coronado, Chiriqui, Arraijan, Chorrera, Capira, San Carlos, Colon
How to pay your reservation at Punto Pago
1. Open the   app at your closest Punto Pago:
2. Input your

PagoCash code

and confirm:
3. Confirm the business you are paying to and the amount in the reservation
4. When prompted, insert the total amount for the reservation in the machine.  The machine only takes bills, not coins.  Machines do not make change so use exact amount
And you're ready!
Press "Print Receipt" if you want a paper receipt.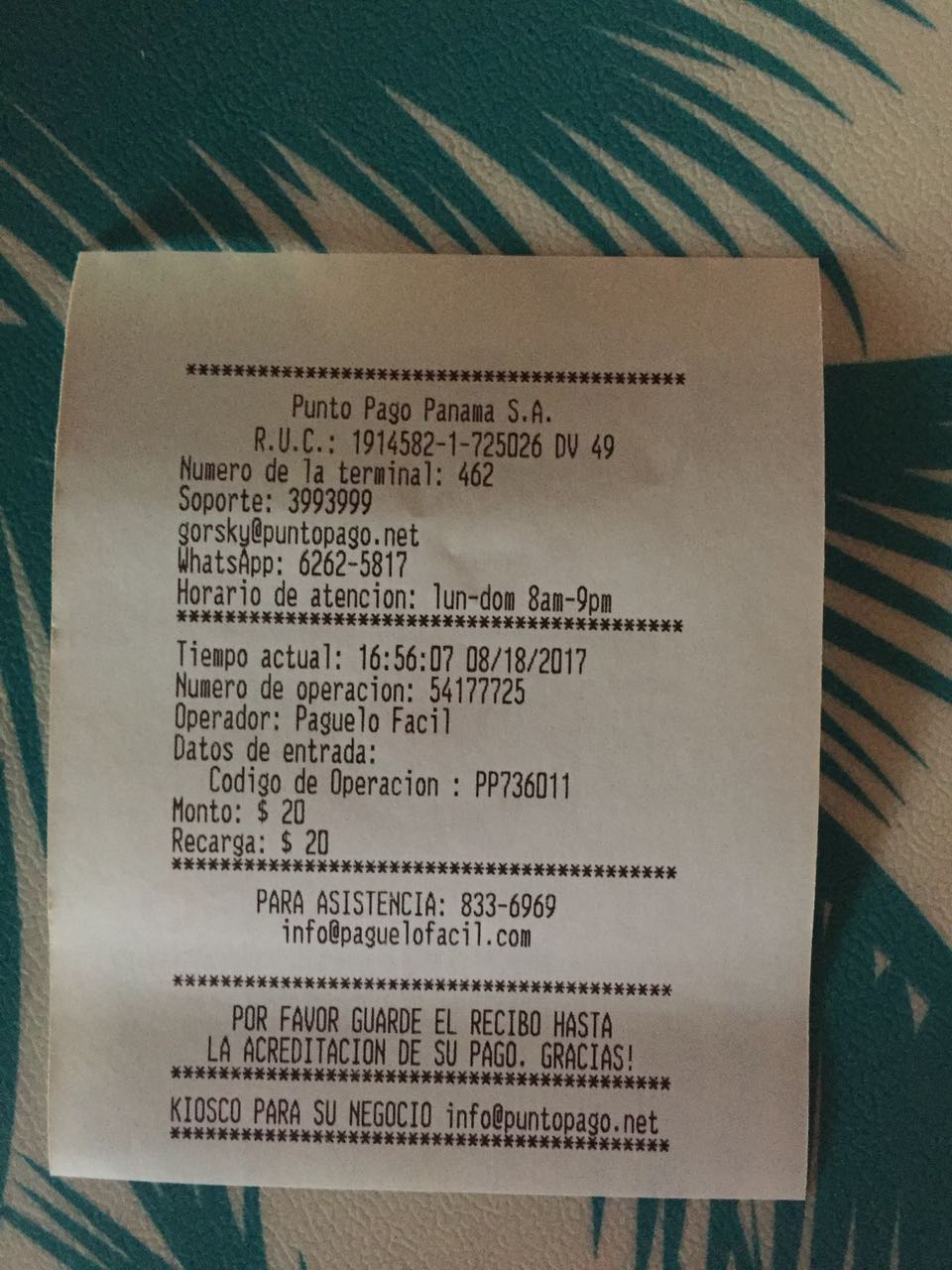 Also you will receive a notification email from Taboga Express confirming the reception of your payment and all the information of your reservation, which can be used to retrieve your tickets at our check-in at least 1 hour before your scheduled departure to Taboga.
You can find us in Uber, Waze and Maps as "Taboga Express Fast Ferry"
Still not sure where to find us? Click here